Events
Meet us for breakfast & a private reception:
Crossroads:
A New Direction
For
Our Youth
at the
Washington Times
Come and let us introduce you to an organization that has helped literally thousands of Washington DC youth over the past 10 years find clear
direction and a pathway to success through learning, modeling and
teaching that sexual abstinence before marriage is the best choice.
Wednesday, November 7, 2012
7 a.m. Registration / Continental Breakfast
7:30 –8:45 a.m. Main Program
Washington Times Beech Room
3600 New York Avenue NE, Washington, DC 20002
Register now.
**This program is a non-fundraising event**
Volunteer Opportunity/Community Service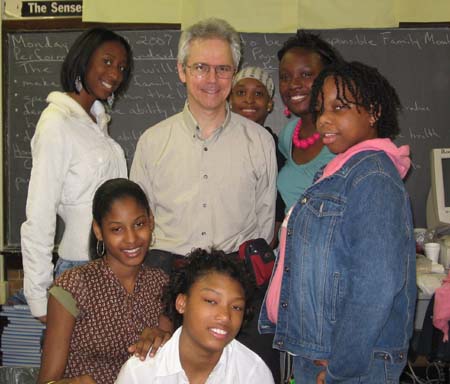 Urban Life Training Service Club members with STAR Guide Brittany McKinley and co-founder Richard Urban

Volunteer now to help with the Crossroads: A New Direction for our Youth breakfast
on November 7th, 2012. Have you been touched by the Urban Life Training program and feel that it has helped you? Then give back by sharing a brief testimony at the breakfast. We also need help with hospitality, food service and registration. Community service hours may be available. Sign up here, or call Richard Urban at 202-558-5550, or email Richard. Now is the time to make your voice heard!
Legislation and Governance
Vote against question 6 in Maryland to keep marriage defined as the union of only one man and one woman!
Earlier this year, the legislature passed and the Governor signed The Civil Marriage Protection Act redefining marriage for all Marylanders, legalizing same-sex marriage in our state and stripping the roles of men and women from marriage making it a genderless institution. The Maryland Marriage Alliance, a coalition of pastors, community and faith groups, and citizens, has qualified a referendum to allow voters to decide if they want this legislation to take effect. On November 6, Marylanders have the opportunity to vote AGAINST Question 6 and preserve marriage as the union between one man and one woman. If Question 6 is not voted down same-sex marriage will be legal in Maryland beginning January 1, 2013.Read more at Maryland Marriage Alliance
Position of the Presidential Candidates on Social Issues:
OBAMA
ROMNEY
Abstinence-centered sex education
????*
FOR
Same Sex Marriage
FOR
AGAINST
Taxpayer Funding of Abortion
FOR
AGAINST
School Choice and Vouchers
AGAINST
FOR

*President Obama cut all funding (Providing $0 of funding) for already-funded 5 yr grants for abstinence-centered programs totaling over $100 million. in fiscal 2010. Obama says
'And what I have consistently talked about is to take a comprehensive approach where we focus on abstinence, where we are teaching the sacredness of sexuality to our children. But we also recognize the importance of good medical care for women, that we're also recognizing the importance of age-appropriate education to reduce risks. I do believe that contraception has to be part of that education process.'

Romney says: 'We have sex education in our schools. Let's also have abstinence education in our schools. Marriage and two parent families are fundamental to the development of children and to our success as a culture. We cannot afford to shrink from the timeless, priceless principles of human experience."
Services Provided
HIV/AIDS, pregnancy prevention, and relationship education Presentations
are available for your school, church or organization.
ULTRA Teen Choice is a premier provider of HIV/AIDS prevention services and peer counselor training that is abstinence centered and evidence based. Call Richard at 202-558-5550 to schedule sessions for your school, church or organization. Click here for more information.
STAR (Students Teaching Abstinence & Responsibility) Guides are young adults who practice sexual abstinence. STAR Guides teach other youth about the benefits of abstinence, and serve as positive role models. To apply to be a STAR Guide, visit our website and fill out a volunteer application: Click Here.
View all items at the Urban Life Training Store: View Now
In This Issue

RSVP now for the Crossroads: A New Direction for our Youth breakfast
Volunteer Opportunity/Community Service
Same Sex Marriage Referendum in Maryland
Position of the Presidential Candidates on Abstinence Education & Social Issues
Abstinence-based Education Resources.
Sign Up to Receive ULTRA Teen Choice Email News
Earn Free Groceries for your School, Church, or Organization, or as an Individual
Organizations: Click Here
Individuals: Click Here
Join Richard Urban on Facebook
See all of the abstinence education resources at the
ULTRA Teen Choice Store
Helpful Links
For Parents
http://www.ultrateenchoice.org/
http://www.abstinenceassociation.org/

Support our sponsor, Urban Grocery LLC by ordering your groceries for Home or Office Delivery