Nicole at the Reality Check Free Fundraising Breakfast
The Third Annual Reality Check Free Fundraising Breakfast was held on Wednesday, May 23rd, 2007 at Imani Temple, 611 Maryland Ave. NE, Washington, DC. Twenty five ULTRA Teen Choice Service Club members attended plus 40 adults from a variety of organizations, schools and communities. Participants heard from the Executive Director and three ULTRA Teen Choice service Club members shared on "Why I am abstinent, and how ULTRA Teen Choice helps me to stay abstinent", plus the video "I am Abstinence Working" was shown for the first time. Ade Ademisoy shared the following comments: Abstinence is the fact or practice of restraining oneself from
indulging in something. I have chosen to practice abstinence and to refrain from things like sex, drugs, and alcohol things that could steer me away from the right and successful path. Some of the reasons why I choose to stay
abstinent were because of my personal experiences of the things I've seen, my ambitions, and my future. I also think Ultra Teen Choice has helped in numerous of ways and was really just a great place to socialize. I think Ultra Teen choice has helped me in more ways than one. Read More

Eighth Grade Peer Counselors from Stuart-Hobson Middle School reached out to twenty five eighth grade peers on May 8th on the topic "Learning Assertive Skills". They taught, modeled and led practice of the three assertive skills: 1) Say no, 2) Tell how the pressure makes you feel and ask why they keep pressuring you (reverse the pressure), and 3) Refuse to discuss the matter further, and if necessary, walk away.
High School Peer Counselors from Eastern Senior High School reached out to twenty peers on May 10 on the topic "Resisting Peer Pressure". Students learned the importance of setting and keeping their own high standards, and were reminded that most high school students in Washington, DC have never had sex (52%: Youth Risk Behavior Surveillance System, 2005).

Eastern High School students staffed the display at the Girl Talk Conference at Johnson Junior High School on May 19, 2007. Nicole and Chaniqua helped girls at the conference understand the importance of abstinence before marriage, and they also earned 200 props each, which helped them earn enough to participate in the Six Flags Top Props trip on May 29th. Props are incentive points that students earn by participating in ULTRA Teen Choice Program activities.
The Six Flags Trip was held on May 29th for the club members who earned enough props to attend. There were 10 from Eastern. 10 from School Without Walls, 6 from Stuart Hobson, and 3 from Kramer. The kids played games, won prizes, rode roller coasters and had a lot of fun.
Thank you to all of our dedicated volunteers, including STAR Guide college interns, on site community sponsors, and parent volunteers. You have truly made a difference in the lives of many youth. For the 2007-2008 school year we need your help in order to hire qualified staff, which will advance the quality and quantity of the ULTRA program. The staff and materials listed here will enable us to serve 2325 Washington DC public school students, including 125 ULTRA Teen Choice Service Club members and 135 parents.
Here are the most critical needs:
Lead School Coordinator: $22,840.
School Coordinators (2): $18,300 each = $36,600
Each grade level at each school, grades 6 to 12, will receive up to six sessions of classroom abstinence education, including peer counseling by abstinent peers. Each high school (total of four) will have an ULTRA Teen Choice Service Club. Each middle school (total of 2) will have up to three ULTRA Teen Choice Service Clubs (one for each grade). Each school coordinator is responsible for two schools.
STAR Guide College Intern Stipends ($60/month x 15 x 9 months) $8100
Program Assistant Interns: (Young adults who will learn all aspects of running the ULTRA Teen Choice Program) ($100/ week stipend x 39 weeks x 2)=$7800
Lunch and Snacks for weekly club meetings: $6000
Classroom and Club curricula materials $4900
Laptop computer and Projectors for classroom and parent presentations (4 sets x$1850 per set) $7400
Total: $93,640
Here's How you can help: Sponsor the cost of one or more of the above items: You can mail a check made out to:
ULTRA Teen Choice, PO Box 48608, Washington, DC 20002.
Or, sponsor one Club Member, who will reach out to 10 other students for $83 per month: Click the button below to use PayPal to make recurring payments (you can cancel at any time):
Or, you partially sponsor one Club Member for $42 per month. Click the button below to use PayPal to make recurring payments (you can cancel at any time):
Or, you can make a secure one time donation using PayPal by clicking here:
Or, you can fill out the sponsor form online, and we will bill you for your pledge:
Click here to fill out the sponsor form.
Also, you can help by giving ULTRA Teen Choice your advise or expertise, or apply to be on the ULTRA Teen Choice Board of Directors. Please call Richard at 202-544-5081 for more information.
View the Reality Check Video: The video is superb! I am really touched and inspired by the work you are committed to. I wish such a program existed when I was at Kramer. The mission and purpose is nothing but positive. The best things in our world sometimes seem to get the least support. But I know that this program will expand and reach those who make it happen as well as those whom you service. Montrella Cowan: Catholic University Student and Kramer Middle School alumni.
Watch the Reality Check video by clicking here.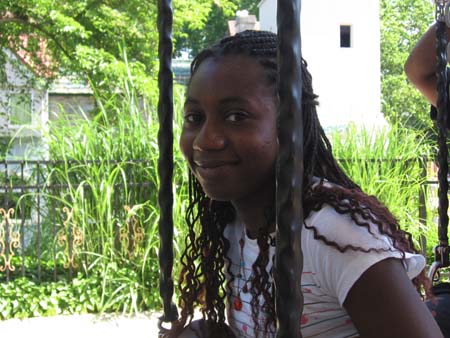 Eastern Senior High School Club co-President Ade.