ALERT!
Know the facts about the HPV vaccination in Washington, DC.
You can opt your child out for any reason:
Opt out form
6th grade DC students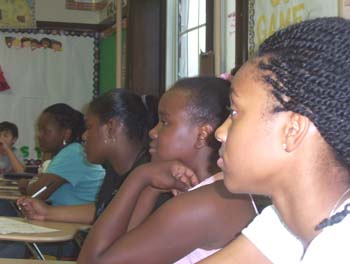 Sixth grade girls entering Washington DC public and private schools this fall are required to either sign an opt-out form or get their child vaccinated with the three part HPV vaccine. This unprecedented requirement is the result of the HPV Reporting and Vaccination Act of 2007, co-sponsored by David Catania and Mary Cheh. Previously, vaccines were only for diseases that can be transmitted in social settings such as schools by being in close proximity to others who may be infected. However, there is no chance of getting infected with the HPV vaccine without sexual contact.

There have been 13,758 reports of adverse reactions to this vaccine as of May 30, 2009. Of this number, 7% or almost 1000 were serious reactions. This includes 42 deaths as of June 16, 2009, and numerous cases of paralysis. Please read more about the dangers of this vaccine here
We need your help. We must stop the ill conceived implementation of this vaccination program. Please contact me by email or telephone at 202-558-5550 if your daughter is now entering 6th grade in any Washington, DC school.
ULTRA Teen Choice is working with the nohpvshots4me coaliton and we will file a class action lawsuit to stop the implementation of this dangerous vaccine, which is using our girls as experimental subjects. We really need your help, so if you have a girl entering 6th grade, please call us right now.
Success Stories: How ULTRA Teen Choice has touched the lives of youth in Washington, DC
ULTRA Teen Choice has certainly impacted my life in a positive way. I attended one of the organization's programs on Howard University's campus in the spring, and was truly inspired by the number of college students in the Washington Metropolitan area that were not only practicing abstinence, but proponing that lifestyle for DC youth. In today's society, sex seems to be more casual than ever. Yet, it still has the same detrimental emotional and physical effects that it always did—along with the ever-increasing threat of HIV/AIDS and a host of other sexually transmitted diseases, especially here in the District.
After listening to the testimonies of the panel and audience members at the program, along with doing subsequent research about ULTRA Teen Choice and its mission, I am more encouraged than ever to remain abstinent until marriage. I have too many goals and aspirations that sex would get in the way of right now, and I'm simply not willing to put them on the line for a cheap thrill. I value myself too much to be a man's "plaything"—and you should too.
By:
Erica Smith
School: Howard University
Classification: Junior; Class of 2011
Major: Marketing
Abstinence
In today's climate, HIV/AIDS is rampant, values are distorted, and respect is lacking. Due to these facts, abstinence is critical. Abstinence is the practice of not having sex until marriage and is 100% effective in preventing pregnancy and STDs. Although different birth control methods have a high rate of success in preventing pregnancy and STDs, they can still fail. Statistics have shown that 54% of high school students are virgins. A lot of teens who have participated in sexual intercourse, now wish they hadn't.

Serious relationships require a level of maturity and commitment, and marriage is an expression of that commitment.
Between the ages of 12 and 18, teens are not prepared for this type of relationship. Instead, they should be focused on finishing high school and college. They should be thinking of a career. Also, some boys degrade girls verbally, don't take them seriously, and even view them as trophies to tell their friends about. As young women, we must insist on being taken seriously.
As a member of Ultra Teen Choice, which is an abstinence program, I am proud to be abstinent. I believe that teens who are sexually active too early often become victims of circumstances. They are unprepared to cope with serious relationships and their consequences. Young people who are considering sex must remember that every action has a consequence. Males and females that remain abstinent until marriage are sending a clear message that they have respect for themselves. By waiting until marriage, they are committing themselves to a special person whom they truly care about and who cares for them. Abstinence is important!
By: Tierra Glymph
Senior at School Without Walls High School; ULTRA Teen Choice member since 8th grade.

Share your success story by contacting us .
Youth Forum 2009
Video now available
Order Now
Support ULTRA Teen Choice and help the youth that you know and care about


View the trailer now

The video above is included in The ULTRA Teen Choice Chapter Kit:
Order one today for your Church, organization, or club

The War on Intimacy
by Richard Panzer and Mary Ann Mosack

Do you know what is being taught in your child's sex education class?
Where did the current ideas about sex education come from?
What is meant when some curricula talk about "abstinence".
Why are condoms promoted so heavily in some curricula, and abstinence ignored.
Find out the answer to these questions and much more by purchasing your copy of The War on Intimacy.
This is a must read for those who want to know how we got where we are regarding sex education for our youth.
A portion of the proceeds will benefit ULTRA Teen Choice: Order Now

Helpful Links
For Teens & Young Adults:
Free Teens USA
Miss the Mess
For Parents
http://www.abstinenceassociation.org/

Support our sponsor, Urban Grocery LLC by ordering your groceries for Home or Office Delivery