Boys & Girls Town Reality Check Seminar
The Third Annual Reality Check Free Fundraising Breakfast will be held on Wednesday, May 23rd, 2007 at Imani Temple, 611 Maryland Ave. NE, Washington, DC. Please come and hear from the great youth who are part of the ULTRA Teen Choice program. You will learn more about the mission and work of ULTRA Teen Choice. The program is just one hour long, and is free to attend, and there is no obligation to give (although we hope that you will!) Email rurban@ultrateenchoice.org to RSVP, and include your name, title, address, telephone number and organization for each guest attending, or call 202-544-5081. Click here to download a Save-The-Date flyer and map.

ULTRA Teen Choice Service Club members from School Without Walls High School, Kramer Middle School, and Stuart-Hobson Middle School enjoyed bowling during the Pure Fun event for Club members on March 24th at Howard University Bowling Lanes. Thanks to Howard University for providing the bowling lanes, and to STAR Guide Brianna Holmes, also of Howard University.

The Power of Purity Assembly at Stuart-Hobson Middle School was held on Tuesday, April 24th, 2007 at 9:30 a.m. Eighth grade Club members performed a skit written by Club member Ke'aira about the benefits of staying abstinent. Both seventh and eighth grade youth performed skits demonstrating assertive skills to use to avoid being pressured into doing things you do not want to do (Say no repeatedly, tell how the pressure is making you feel and reverse the pressure, and refuse to discuss the matter further and walk away, if necessary).Guest speaker Shuyinthia Hembry affirmed for the students that, yes, it is possible to stay abstinent until marriage. she shared why she is glad that she make that choice. Emcee Simi Akinwande shared the Mariah Carey song "Can't Take That Away" and guided the assembly smoothly. Top Props certificates were awarded to Eighth grade Club members Sabrina Donelson, Mary Carew, and Ke'aira King. Seventh Grade Club members Kasey Davis and Roderiquez Thomas won top Props, which means they participated in the most Club activities.

Peer Counselors from Kramer Middle School had a first: they were the first Peer Counselors in Middle School to present the ULTRA Teen Choice/Free Teens slide presentation to their fellow students. Way to go Simone', Sabrina, Troy, and Melanie!
The ULTRA Teen Choice Service Club at School Without Walls High School heard from guest speaker Executive Director Richard Urban about the reality of HIV/AIDS and other sexually transmitted diseases, many of which are epidemic in Washington, DC.
College STAR Guides Brittany McKinley, Ashley Walker, and Brianna Holmes lead a Reality Check Seminar for youth staying at Boys and Girls Town in Northeast Washington DC. The youth heard from the STAR Guides about why abstinence is the best choice, and how secondary virginity (being abstinent from now on) is a good option, too. Call Richard Urban at 202-544-5081, or email him at rurban@ ultrateenchoice.org to schedule a seminar for your group.
Eastern Senior High School Peer Counselors received training on guiding their fellow students to resist peer pressure to have sex. They will be visiting classrooms in May.
Executive Director Richard Urban visited Charles H. Flowers High School in Prince Georges County for Career Day on April 25th. Health class students learned about the Reality of teens and sex and former Stuart-Hobson ULTRA Teen Choice Service Club member and Peer Counselor Amber shared with her class why abstinence is important to her.
View the Reality Check Video: The video is superb! I am really touched and inspired by the work you are committed to. I wish such a program existed when I was at Kramer. The mission and purpose is nothing but positive. The best things in our world sometimes seem to get the least support. But I know that this program will expand and reach those who make it happen as well as those whom you service. Montrella Cowan: Catholic University Student and Kramer Middle School alumni.
Watch the Reality Check video by clicking here.
Help ULTRA Teen Choice reach its goal of helping more Washington DC youth to be successful by abstaining from sex before marriage. Sponsor a deserving DC youth for only $32 per month. Click here to sponsor a child now, or just reply to this email and include your name, address, telephone and preference for email contact or mail contact and we will send you a sponsor form.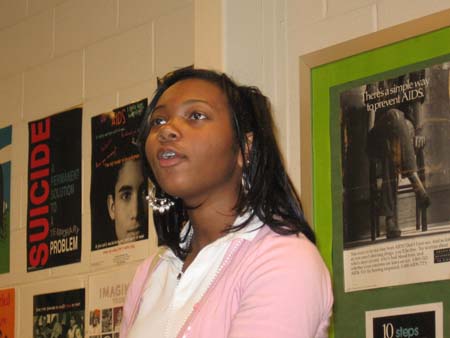 Amber explains why why she is staying abstinent at Charles H. Flowers High School.